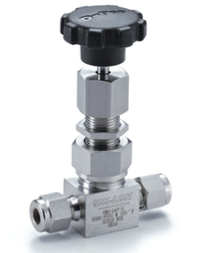 DK-LOK® USA is pleased to announce the the new VMH High Pressure Metering Valve designed to provide accurate and stable control of flow rates in analytical, instrumentation and research applications.
The VMH High Pressure Metering Valve still retains most of the features found in the current VM Series (2,000 psig low pressure metering valve).
The primary difference is the maximum working pressure of 5,000 psig.  This new valve is manufactured from bar stock with a  metal-to-metal shutoff design.
The VMH Series is equivalent to the Swagelok 31 Series in design and specification.
Packing Seal System prevents protrusion of the packing caused by internal pressure
Metal to Metal Shut Off provides leak free performance between the stem and body seat
Packing Nut makes the valve externally adjustable
Heat Treated Stem improves life expectancy
Tapered Precision Stem Tip ensures accurate flow control


DK-Lok continues to grow its product offering in an effort to assist distribution in becoming a single source for customers for all their valve and fitting requirements.